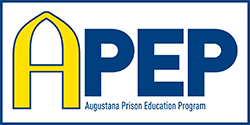 About
---
The Augustana Prison Education Program (APEP) is a full-time BA degree program at the East Moline Correctional Center (EMCC), a minimum-security facility for men. Coursework commenced in 2021 for a cohort of ten men. In Spring of 2022, the Higher Learning Commission accredited APEP at EMCC as an official second location of Augustana College. We are proud to say that APEP is fulfilling the mission and purpose of Augustana College:
The purpose of Augustana College is to afford an opportunity for a higher education in the liberal arts that provides for the development of all dimensions of human existence, in a manner consistent with the higher education values of the Evangelical Lutheran Church in America. As a community dedicated to diversity, equity and inclusion, Augustana prizes interfaith engagement, commitment to justice, spiritual exploration, reasoned examination and vocational discernment. In carrying out this purpose, the corporation shall assure freedom of academic inquiry and expression.
Currently in its third year, APEP has 35 students taking full-time coursework. In the 2023-24 academic year, 23 faculty are teaching an Augustana course in the prison.
Check out the FAQ page for more details!
Course Offerings
How are students chosen for APEP?
Admission to the Augustana Prison Education Program (APEP) is not a given.  Applicants sit for a two-hour essay application--a writing exercise in response to a choice of challenging texts -- and then are interviewed by a panel of faculty.  In 2021-22, 10 students were admitted.  In 2022-23, 24 students were admitted.
Learn More
What issues propelled this program to start? The Director was interviewed a few months before winning the Austin E. Knowlton grant that allowed the start of APEP. Listen here to the genesis of APEP! Sharon Varallo speaks to Mass Incarceration, January 2020, Holden Village podcast